About the Wild Feminini-tee
We are delighted to bring you this collaboration between Mint Illustrations and the CBR Gals Network.
This collaboration is part of our pilot project; we're committed to collaborating with Canberra-based women artists to give them a platform to share their voices through a series of socially and environmentally sustainable products. We believe in transparency
and are committed to a sustainable supply chain.
Artist Statement
Hannah Minter (aka Mint Illustrations) is an artist and illustrator born and bred in beautiful Canberra. Hannah's work couples the gritty textures of vintage design with subject matter that draw on wild femininity and untamed nature.
Our transparency model
When you purchase a CBR Gals Network collaboration tee, you are supporting a system that supports women in Canberra and all over the globe. It starts with the artist, who receives 85% of the net profit from each shirt. The shirt itself sourced sustainably as part of the Better Cotton Initiative, is printed by a local, family-owned Canberra-based business. Finally, you're supporting us to keep doing this for more artists and makers, too. See our cost breakdown to follow the journey of each dollar when you purchase the Wild Feminini-tee:
Cost breakdown: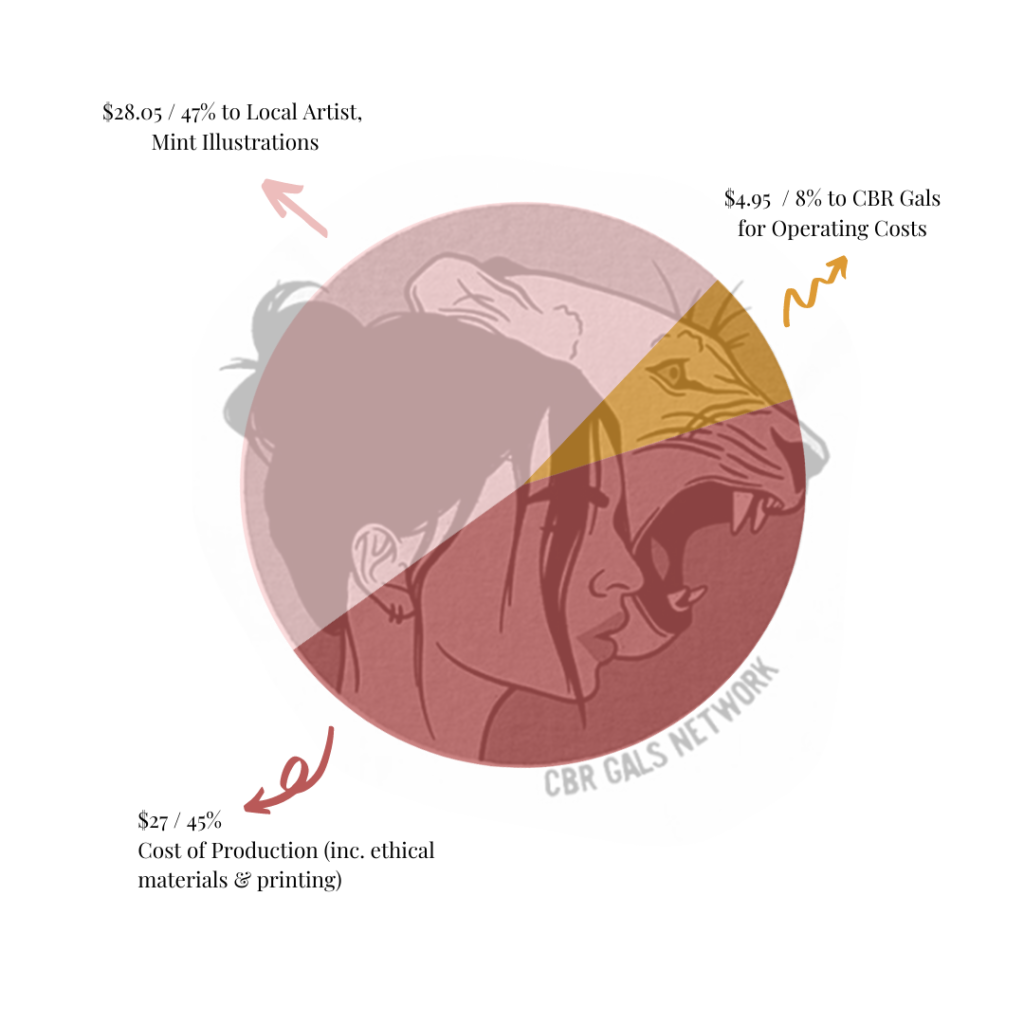 The t-shirt, sourced sustainably as part of the Better Cotton Initiative (BCI), costs between $26 and $28 to produce and ship from AS Colour*. On average, $27 goes to cost of production, including ethical materials and printing. The net profits are then split 85-15 between the artist and the CBR Gals: $28.05 to Hannah Minter, and $4.95 to CBR Gals, so that we can continue to support women in this way.
What is the Better Cotton Initiative?
*AS Colour is committed to improving cotton farming practices globally with the Better Cotton Initiative (BCI).
BCI contributes to the training of farmers and encouraging the worldwide shift to more sustainable cotton production.
To achieve this mission, BCI works with a diverse range of stakeholders across the cotton supply chain to promote measurable and continuing improvements for the environment, farming communities and the economies of cotton-producing areas.
BCI aims to transform cotton production worldwide by developing Better Cotton as a sustainable mainstream commodity.
Better Cotton is not physically traceable to end products. However, BCI Farmers benefit from the demand for Better Cotton in equivalent volumes to those we 'source.'