Spotlight: How this Canberra Woman is Using Her Journey of Self-Acceptance to Empower Others
In our efforts to bring Canberra to your door, we have started an initiative to work with local makers, shakers, and more to bring the real stories of Canberran women to the surface. The first editorial in the series, Jodie Papin tells how she is using her journey to empower Canberran women through self-love.
My Journey of Self-Acceptance
Behind every girl who has waves, curls, coils, or an afro,  there is a story to share with all our curly and non-curly sisters. Through transitioning back to natural hair, I learned to accept my natural self,  ultimately learning to love my true self, all whilst building  a sense of confidence that I cannot hide any longer.
Lack of both confidence and self-love is so common amongst many of us who have naturally curly hair. It is rather disheartening to see so many women who are unable to love who they see in the mirror. My journey pushed me to become more confident, and because of it, I feel like I can accomplish anything. Yes, I still have my moments where I am feeling down from time to time, but I always end back up on my feet, shaking my curls around, because they remind me that I am capable of anything.
Many women battle with trying to get their curls to sit right, to bounce up – to be "defined".  The struggle is real, but it's much deeper than that.  The battle lies with trying to conform to society's beauty standards. It's about battling these ideas that curly hair is messy, unkempt, and wild. How many of us have simply straightened our hair to fit in, or to be taken seriously, or to come across as professional, all whilst diminishing our self-confidence by not being true to ourselves?
But my curls are a part of me and they have helped me to embrace my natural self. They allow me to accept myself and they bring a light of confidence within me; but more importantly, they allow me to truly love myself. My curls have certainly empowered me. But it wasn't easy, and here are three things I wish I had known when I first started owning my curls:
1. Embrace your natural self
Now I have heard many say that hair is just hair.  But for me, my curls have history; they tell a story, my story.  They tell the story of my ancestors; in essence, they explain my heritage and symbolise my mixed background, from the gorgeous little paradise known as Mauritius, located in the Mascarene islands. Within the Mascarene culture, it has been repeatedly said that straight hair is more ideal than curly hair, and many of us have faced comments regarding our curls. So I myself had this battle of burning my curls to simply reduce the noise in my head about how I should feel about my hair, when, in fact, my hair is a part of who I am at my core. 
More importantly, my hair represents the very history between African slaves and the French. It represents the fusion of these cultures, forming my Creole identity.  It reminds me of my roots, my cultural upbringings, and therefore my curls are a part of who I am. So, when I hear "hair is just hair," I think to myself, no, it is more than that. Each curly hair will have its own unique story, yet one thing they all have in common is that they form part of our identity and our natural selves. Understanding our identity and embracing our natural selves is a fundamental part of self-empowerment. 
2. Learn what self-acceptance means for you
How many times have we been bombarded with ideal beauty standards, including those of curly hair? How many times have we been told that curly hair is unprofessional, wild, and unkempt?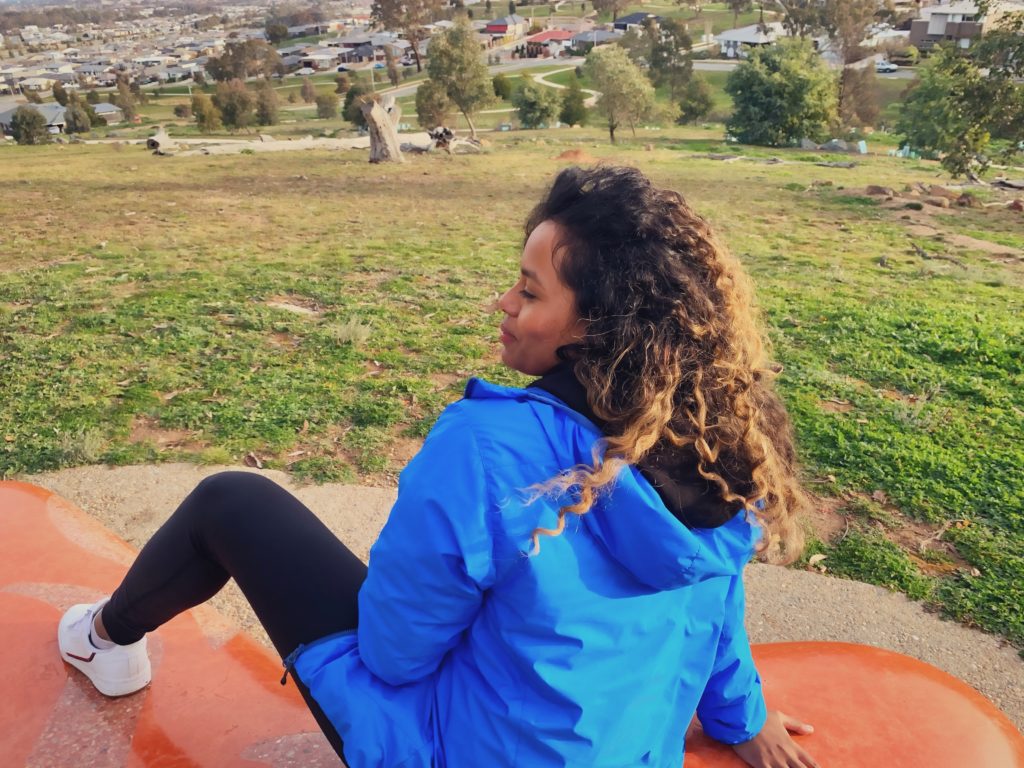 These standards affected my understanding of beauty, especially when it came to my curls. So, I used a straightener every day to have sleek straight hair. I believed that certain events meant that I had to straighten my hair to be considered professional and neat. It made me feel like my natural hair was a mess, and therefore, I was not good enough. I felt insecure. I constantly felt judged and thought "they must think I'm messy" if I left it natural.  Whereas when I "did my hair" I felt put together and up to society's standards. All whilst deep down I felt like someone else in order to fit in and I simply didn't accept myself for who I am. 
"How many times have we been bombarded with ideal beauty standards, including those of curly hair? How many times have we been told that curly hair is unprofessional, wild, and unkempt?"
 What this meant was that I defined my beauty based on everyone else's ideals and opinions. I straightened my hair to please others and to meet their standards. I didn't do it for myself. I gave away my power by seeking validations elsewhere.  But I finally realised that not being myself is exhausting and soul-crushing. I learned to accept myself. 
3. Be kind to yourself while transitioning
My transition was inspired when I went overseas both in parts of Europe and Mauritius and I saw so many gorgeous and naturally beautiful women there. It was through my travels I stumbled across other women who flaunted their natural selves whether it was rocking their curls, being bare-faced, or strutting their curves. These women were glowing, and their confidence shone. I wanted that feeling. 
I simply grew tired of trying to be like everyone else and surrounded myself with those who truly love me for all that I am. There have been many that impacted my life. I call them my soleil's (my sun) because they brighten my world and help me to be me! They gave me that little push to move out of my comfort zone, and to fully accept myself and all that comes with it, including my curls.
"I simply grew tired of trying to be like everyone else and surrounded myself with those who truly love me for all that I am."
Part of my realisation was that I wasn't just straightening my hair, I was burning it to live up to society's ideals and other people's opinions. For me to grow, I had to break up with my hair straightener. This taught me to let go of unattainable standards and to finally be free from other people's opinions.
My curls are a sense of strength from the very internal battles I faced and reflect the woman I am today. When I leave my curls out, it reminds me that I accept myself and that I can overcome anything. Now that is empowering as fuck.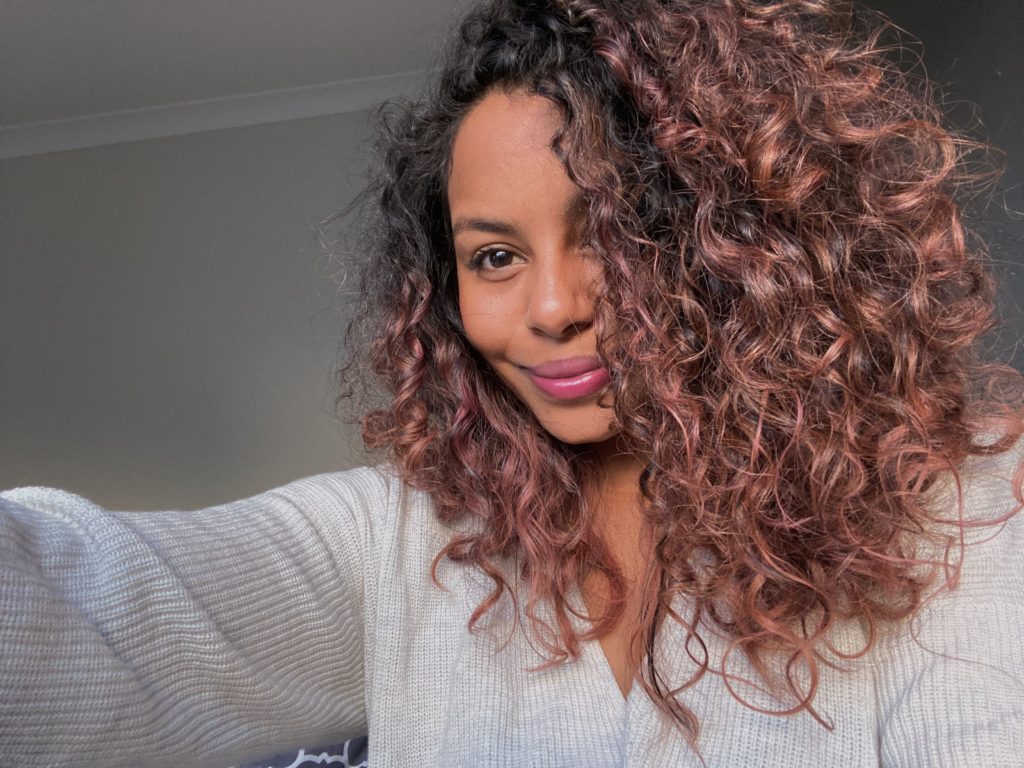 The idea of self-love and empowering other women is the founding reason I established La Mamzel, (meaning "the girl" in Creole), to empower other women to be themselves, to be confident and to practice self-love. La Mamzel focuses on self-care and the ways we can incorporate self-care and focus on ourselves by using these amazing body and hair products.
I believe that many women have faced similar battles when it comes to beauty standards, even beyond curls.  As women, we focus so much on what others think that we lose ourselves in the process. We let others tell us how we should be, from our hair, our clothes, to even our bodies. 
Remember who you are and at the end of the day. Just be you and own it, regardless of what anyone else thinks!
I truly believe that all curly girls have a story and whatever that may be, it is their own story and they should tell that story. Own your natural hair, own your story, and empower yourself because that shit there is life-changing! 
Since 2018, the Canberra Gals Network has operated as a feminist  not-for-profit that focuses on enabling EVERY Canberran woman to be more in her personal and professional capacities and to connect to the broader ACT community through inclusive events. Every gal of every age, profession, and in every season of life is invited and included. When you subscribe to our newsletter, you'll be the first to know about our latest events, local discount and deals, collaborations with local makers and shakers, and our work in the Canberra Community.